Search for a car
Please fill out the form to find out the exact price
Reviews from our customers Super wspolpraca. Jedna drobna uwaga- fotelik dla dziecka niezbyt wygodny. Twarde podloze. Na przyszlosc prosze o zainwestowanie w dobrej jakosci foteliki a z pewnoscia wrocimy do was aby wypozyczyc samochod. Pozdrawiamy. Dostałam inny samochód ale ogólnie polecam gorąco! Szczerze mowiac porazka pierwszy i ostatni raz auta z firmy Cheap Car Wszystko odbywa się sprawnie, bez komplikacji. Korzystaliśmy już kilka razy. Można polecić. Oczywiście nie dostałem auta które zamawiałem ,za to auto klasy wyższej chciałem fiata tipo dostałem hyundaia elantrę Bardzo miła obsługa,gorąco polecam. Auto ktore dostalem jak zawsze nie to co docelowo zarezerwowalem nie mialo wogule swiatel uszkodzona regulacja swiatel na maxa w dol widocznosc w nocy max 5m halogeny dalej swiecily wycieraczki katastrofa nastepnie caly czas widnial blad braku powietrza w przednim kole. Strzelajacy przegub na zakretach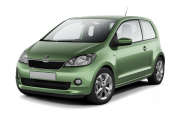 Punktualnie,sprawnie,auto czyste ,jesteśmy zadowoleni Wszystko było ok. Jedyny minus to (czystość w środku oraz fotelik dziecięcy). Może następnym razem będzie czysty. Pozdrawiam. Dobra obsluga mily I grzeczny pracownik. Mialem dostac Opel Astra a dostalem Hyundai Elantra ale nie narzekam byl O.K. jedynie co to zarowka byla spalona I musialem kupic I wymienic, oraz przeglad sie konczyl w polowie mojego urlopu ale przyslali mi electronicznie gdy zadzwonilem. samochod czysty, zadbany nie mialem problemow. Gdy oddawalem byla 2:00 rano nie bylo problemu o tey porze nocy z oddaniem; mila obsuga odwoz na lotnisko. Polecam. Eryk - Canada