Search for a car
Please fill out the form to find out the exact price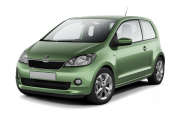 Skoda Citigo
Reviews from our customers samochod w bardzo dobrym stanie,obsluga super,cenny przystepne Rezerwacja samochodu oceniam na bardzo dobry natomiast odbiór samochodu odbył sie w bardzo niemiłej atmosferze ,myśle że kierownik powinien porozmawiać z pracownikiem z kolei zwrot samochodu i rozmowa z panem Tomaszem to pełny profesjonalizm . Szybka i miła obsługa. Auto czyste i w bardzo dobrym stanie.
Dziękujemy bardzo za pozytywną Opinie.Zapraszamy ponownie PARTNER CARS

2018-10-11 Punktualnie,sprawnie,auto czyste ,jesteśmy zadowoleni This is the second time we have been hiring a car from RentCars and the service is very good indeed. We will keep coming back to them when we are in Poland. The staff is nice and professional, very punctual, no problems. Highly recommended. Juz drugi raz wypozyczamy auto z RentCars i jestesmy bardzo zadowoleni z uslugi. Obsluga serwisu jest mila i profesjonalna. Bedziemy tam wracac kiedy bedziemy przyjezdzac do Polski. Polecamy. Wszystko przebieglo szybko i sprawnie. Świetna obsługa - zawsze szybkie odpowiedzi - samochód nowy bez problemów ! Napewno skorzystam za rok! Pozdrawiam Profesjonalna obsługa Polecam i Dziękuje . Mila i fachowa obsluga. Personel nastawiony na rozwiązywania problemów, a nie ich generowanie. Na pewno jeszcze skorzystam. Polecam ! Obsługa klienta rewelacyjna, wszystko bardzo sprawnie i oczywiście punktualnie. Jakość otrzymanego samochodu bez jakichkolwiek zastrzeżeń, samochód był nowy. Cena za wynajęcie samochodu bardzo dobra, uważam, że w tym temacie wyprzedza inne na rynku. Reasumując, jestem bardzo zadowolona za skorzystanie z oferty niniejszej Firmy, poleciłam ją już wszystkim moim znajomym. Od teraz zawsze będę korzystać z usług Państwa Firmy. Dziękuję i pozdrawiam.