Search for a car
Please fill out the form to find out the exact price
Reviews from our customers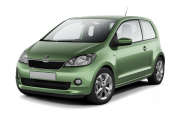 Korzystałem już drugi raz z Waszych usług i niestety..... Nie ma się do czego przyczepić. Obsługa na najwyższym poziomie. Polecam!!! Miła obsloga, ( nice service) Szybki przekaz samochodu, ( quick transaction ) Godny polecenia ( well recommend ) Bardzo przyjemna obslługa Brak jakichkolwiek zastrzeżeń . Auto podstawione na czas. Fantastyczna obsługa nowa flota samochodów atrakcyjne ceny wypożyczalnia godna polecenia Dał bym pięć gwiazdek na wszystko. Ale zostałem obciążony kosztami paliwa mimo że samochód zatankowałem pod korek 5km przed lotniskiem. I nie wiem jakim sposobem auto nagle mogło spalić 4,5litra na takiej trasie. Moim zdaniem pracownicy jeżdżą autami w sprawach prywatnych i kasują za to klientów gdyż inspekcja auta przy odbiorze nie odbywa się odrazu. Bardzo zastanawiające że 1.6 focus spalił 18l na dystansie 193km jadąc max 90km ze względu na warunki.
Szanowny Panie Michale. W sposób bardzo rzetelny podeszliśmy do procedury zwrotu pojazdu. Staramy się Pana zrozumieć, ale jedyne co nam przychodzi do głowy, to że tankując paliwo, pistolet odbił za wcześnie i miał Pan przekonanie, iż auto jest zatankowane do pełna. Pracownicy są rozliczani z jazdy i aby nie było nadużyć zanim ruszają w drogę samochodem, który klient zwraca, dokumentują na zdjęciach stan, który pokazuje wskazówka poziomu paliwa. Tym bardziej, jeżeli mają jakiekolwiek wątpliwości. Tak też było i tym razem. Rozumiemy Pana zdanie, ale jednocześnie z całą stanowczością oświadczamy, że zarzuty, jakoby pracownicy jeździli w sprawach prywatnych są całkowicie bezpodstawne i niezgodne z prawdą. RentCars

2019-12-11 wszystko na temat,bez zbędnych formalnosci..co tu duzo pisać ..szybko fajnie,i na temat,a o to chodzi nam,klientom ,).juz od dobrych 4,5 lat korzystam mimimum 2 razy w roku, i nigdy nie miałem żadnych problemów.A i niejednemu znajomemu juz polecałem..